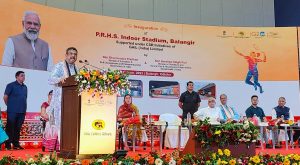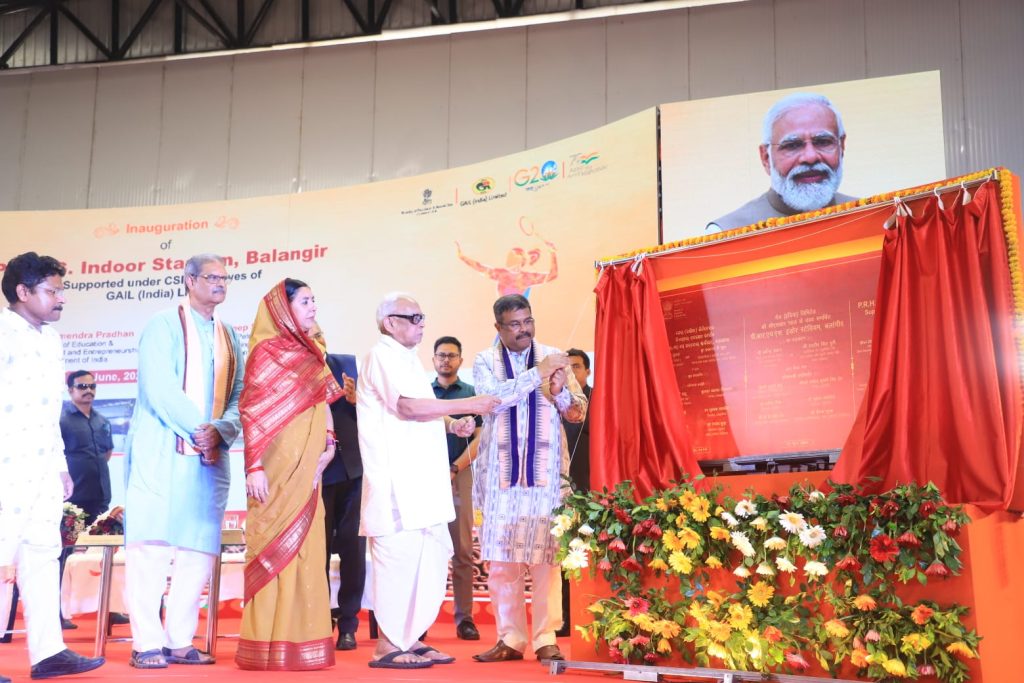 Balangir, 10/06/2023: Shri Dharmendra Pradhan, Hon'ble Minister of Education & Skill Development and Entrepreneurship, GOI and Shri Hardeep Singh Puri, Hon'ble Minister of Petroleum and Natural Gas & Housing and Urban Affairs, GOI inaugurated today an Indoor Stadium at P R School, Balangir, Odisha, supported by GAIL (India) Limited under CSR initiatives. The inauguration ceremony was graced by esteemed dignitaries including Smt. Tukuni Sahu, Hon'ble Minister of Commerce, Transport & Water Resources, Government of Odisha, Smt. Sangeeta Kumari Singh Deo, Hon'ble Member of Parliament, Balangir, Shri Narasingha Mishra, Hon'ble MLA, Balangir, Dr. Mukesh Mahaling, Hon'ble MLA, Loisingha, Shri K V Singh Deo, Former Minister, Government of Odisha and Shri Deepak Gupta, Director (Projects), GAIL (India) Limited. Senior officials of GAIL (India) Limited and Government of Odisha were also present at the inauguration ceremony.
Built at approximately Rs.9.9 crore cost, the indoor stadium was supported by GAIL (India) Limited under its Corporate Social Responsibility (CSR) initiative at P R High School, Balangir, Odisha. This project aims to enhance sporting facilities and promote sports in the region, fostering the talent and passion for sports among the youth. The newly inaugurated indoor stadium at P R High School offers state-of-the-art facilities, including a main hall with four badminton courts conforming to national standards.
Western Odisha, and particularly Balangir district, have immense potential for excelling in sports at the national and international levels. To nurture the sporting abilities of the youth in these interior regions, it is crucial to provide them with adequate infrastructure where their talent and passion can be cultivated. The indoor stadium at Balangir will significantly contribute to identifying, nurturing, and showcasing rural sports talent residing in remote corners of the nation who have limited access to sports equipment and infrastructure.
Speaking on the occasion, Shri Deepak Gupta, Director (Projects), GAIL (India) Limited said, GAIL takes pride in supporting this CSR project and remains committed to contributing to the development and welfare of communities through its CSR initiatives. The company believes in empowering the youth by providing access to quality sports infrastructure and nurturing their sporting aspirations, he added.
GAIL is implementing various Natural Gas Pipeline, City Gas Distribution and a Coal Gasification Based Fertilizer Plant in the state of Odisha. 1650 Km high-pressure cross-country pipeline with an approximate cost of Rs. 6850 Cr, City Gas distribution network in 5 GA's spread across 11 Districts namely Khordha, Cuttack, Sundargarh & Jharsuguda, Ganjam, Nayagarh & Puri, Gajapati, Khandhamal, Boudh and Sonepur with investment of Rs. 1729 Cr are under various stages of implementation. In addition to above, GAIL, as a JV partner, is investing in Talcher Fertilizer Project, which is being set up with an approx. cost of Rs. 17000 Cr.
This will lead to generation employment of around 10 million direct and indirect man-days during project phase and about 2 million man-days per year during the operational phase of these projects.
About GAIL (India) Limited:
GAIL (India) Limited is India's leading natural gas company with diversified interests across the natural gas value chain of trading, transmission, LPG production & transmission, LNG re-gasification, petrochemicals, city gas, E&P, etc. It owns and operates a network of around 14,830 km of natural gas pipelines spread across the length and breadth of country. It is also working concurrently on execution of multiple pipeline projects to further enhance the spread. GAIL commands around 68% market share in gas transmission and has a Gas trading share of over 53% in India. GAIL and its Subsidiaries / JVs also have a formidable market share in City Gas Distribution. In the Liquefied Natural Gas (LNG) market, GAIL has significantly large portfolio. GAIL is also expanding its presence in renewable energy like Solar, Wind, Biofuels and Green Hydrogen. For more information about GAIL: gailonline.com